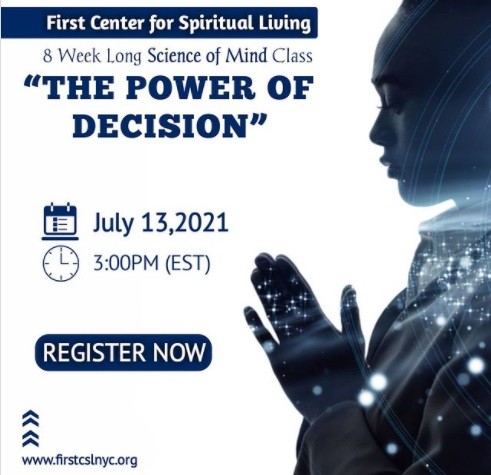 A class being taught in person and virtually via ZOOM
It is starting on July 13,2021 at 3:00PM (EST) at First Center Spiritual Living at 204 West 84th Street NY, NY 10024
We are happy to be presenting this class and that we can connect with people all over the world as well as welcoming our New York friends back into the center.
This book and this class are an all-time favorite. You can expect to discover or rediscover who you have come here to be.
This class serves as a manual, the choice maker to make decisions that will allow you to live your very best life.
It will remind you of the importance of letting go of guilt and fear. You will be given tools that will help you each week.
You will learn how to decide on the side of greatness.
The Power of Decision reveals this principle of success and illustrates the process of choice. It will invite you to level up and make decisions that will allow your dreams to come true.
If you think you could do better in any area of your life, this is the perfect course for you. You will explore your decision-making process, and the role of the subconscious, also learn steps to shift the balance of decision making power in your favor.
This 8 week long "SCIENCE OF MIND" class entitled "The Power of Decisions" will be conducted by Rev. Judith Byrd-Bullock, RScP and Rev. Robert Villanova, RScP.
The discounted fee is $130 for early birds or ($200 with a $25 per week payment plan).

To Register for this class:
DM here  m.me/firstcslny
P️hone: 212-688-0600, 929-620-3040
📩 info@firstcslnyc.org
📩 Fcslnyc@gmail.com
Subscribe to our Newsletter
We'd love for You to join us this Sunday!
Share this post with your friends